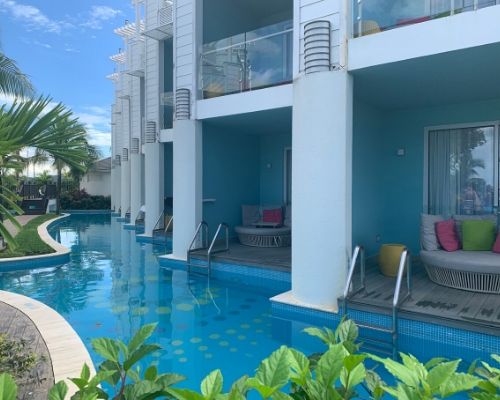 Family-Friendly Resort on Jamaica's Famous Seven Mile Beach: Azul Beach Negril
Do you enjoy long walks on the beach at sunset? If so, Azul Beach Negril is the resort or you!
Azul Beach Negril is located on Seven Mile Beach, which is rated as TripAdvisor's best beaches in the world. It is also located on Jamaica's western coast, providing some of the best sunsets arounds.
Being a family-friendly resort with an adults-only section, this Caribbean haven is ideal for beach lovers of all ages.
Travel Savvi Specialist Thoughts
"I loved the white sand beach and turquoise water! The swim-up bar was very relaxing and quenched our thirst! Our private dinner in The Champagne Lounge was beautiful. I saved the best for last ……. drum roll please…..THE PILLOW MENU!" – Mary Jo
"I love that Azul Beach feels more like an exclusive secluded beach than a resort. It was mellow and relaxed with more than enough private space for everyone. Things are spread out and never crowded. I know I would not have to wake early to get a beach chair. The staff is friendly and the rooms are very spacious." – Nikki
"Beautifully appointed rooms, great service, friendly staff, gourmet food, plentiful pool choices all set on such a stunning stretch of beach – Azul Beach Negril checks all the boxes!" – Kristi
"I absolutely love this resort! The beach is immaculate. The ocean is sooo calm, perfect for floaties and relaxing. The food is so delicious and the nightly entertainment was fun and different each night. This resort is perfect for families and couples. It even has an adults-only section if you need a break from the kids. I would highly recommend staying here when visiting Negril." – Sarah
The Property
Located in Negril, Jamaica, Azul Beach Negril is an hour and a half drive from the main airport in Montego Bay, Jamaica. Azul Beach Negril is spread out horizontally to optimize its pristine location on Seven Mile Beach. From almost anywhere on the resort, you have full views of the beach, ocean, and dramatic sunsets from everywhere.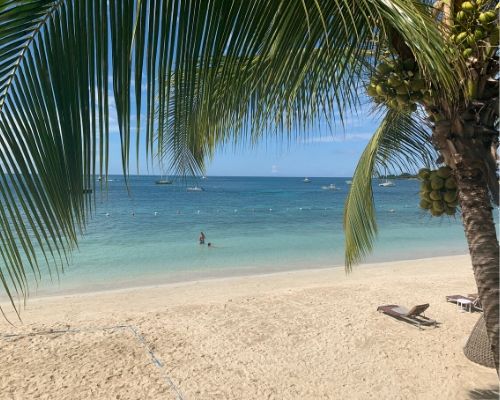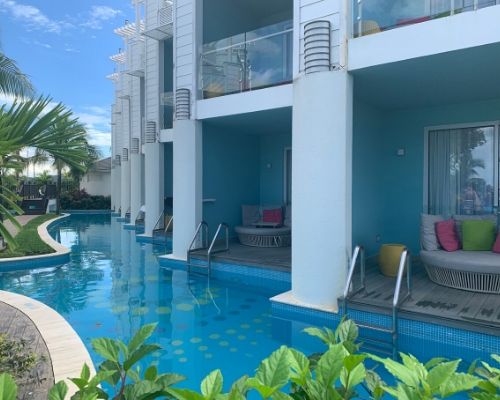 Accommodations
Whether you are a newlywed couple on your honeymoon or a family with kids at all ages, you will find an accommodation at Azul Beach Negril to fit your needs.
You can enjoy a swim-up suite with direct access to a swimming pool. If you're a newlywed couple, choose a honeymoon suite that is ideal for your romantic vacation. When you need a break from the kids, choose the adults-only section, which is right next to the adults-only pool with a swim-up bar. If you are with your family, there are plenty of family suites that can accommodate as many as seven family members. If you want to upgrade your experience, enjoy the Premium suites with perfect ocean views.
The All-Inclusive Experience
Azul Beach Negril is part of the Karisma family. When you stay at a Karisma property, you know you will be getting a gourmet inclusive experience every single time. As a guest at Azul Beach Negril, your all-inclusive experience includes:
– Welcome glass of sparkling champagne
– Children's smoothie or chocolate milk
– Premium brands of alcoholic and non-alcoholic beverages
– All meals and speciality gourmet bites
– 24-hour room service
– Complimentary daily stocked mini bar
– Complimentary Wi-Fi
– Concierge service and vacation planner service
– Daily activities program
– Non-motorized water sports, including kayaks, Hobie-cats and snorkeling – Cooking classes
– Fitness center
– Yoga classes, aqua aerobics, rum tasting and dance classes
– Beach volleyball, giant chess and ping pong, basketball court
– Special nightly entertainment, shows and live music
– Gerber baby food is available in all restaurants and with room service
– Azulitos Playhouse program with supervised activities for kids age 3-12
– And so much more.
There are also other options to choose from at an additional cost:
– Tours and excursions
– Catamaran and other boat rides
– Spa services
– Family or couples dinners on the beach – And so much more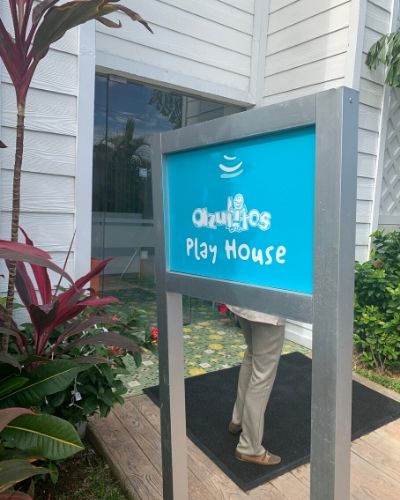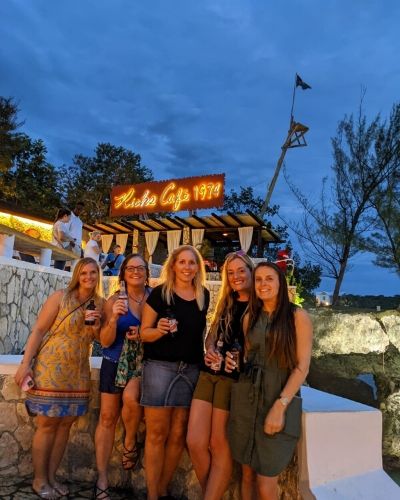 Activities and Events
One this is for sure, you will not get bored at Azul Beach Negril. There are activities and events happening at all hours of the day and night. Some of these activities and events include:
– Caribbean Dance Class
– Rum Tasting
– Tai Chi
– Kayaking
– Beach Volleyball
– Jamaican Cooking Class – Pilates
– Yoga
– And so much more.
There are also a lot of off-site activities to check out for an extra cost. We highly recommend checking out the famous Rick's Cafe! Would you dare jump off the highest cliff?
Food and Beverages
Karisma Resorts are known for their gourmet experience. Azul Beach Negril does not disappoint. There are restaurants that cover almost every type of cuisine, including Caribbean, Italian, Thai, and World Cuisine. The restaurants and bars throughout the resort take advantage of the beautiful ocean and beach views with many indoor/outdoor seating options.
Throughout the day when you are enjoying the sun, you don't even have to get out of the pool for your favorite tropical drink with the three swim-up bars located throughout the resort.
There is limitless gourmet food and premium drinks at Azul Beach Negril to satisfy every type of traveler.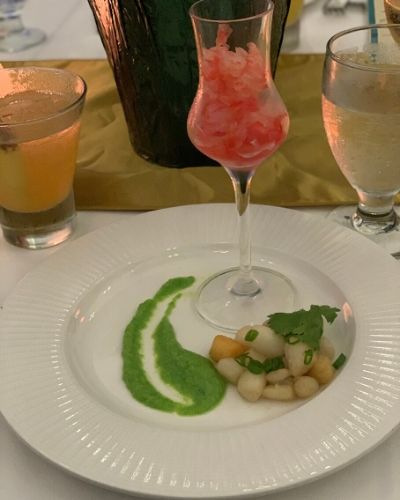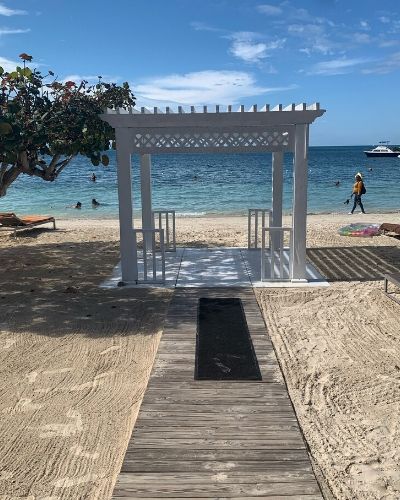 Destination Weddings
Azul Beach Negril is the perfect resort for a destination wedding:
– There are multiple venue options for a beach ceremony, whether you want your toes in the
sand or be protected with a wooden walkway on top of the sand.
– There is a rooftop venue option if you want to overlook the ocean.
– Family-friendly resort provides options for every group size
– Dramatic sunsets and beautiful beach makes for perfect wedding photos
– Gourmet food and drinks keep you and your guests happy
If a beach wedding is your dream, Azul Beach Negril could be the perfect option.
When you are ready to book your Jamaican getaway, reach out to one of our Travel Savvi Specialists to start planning!