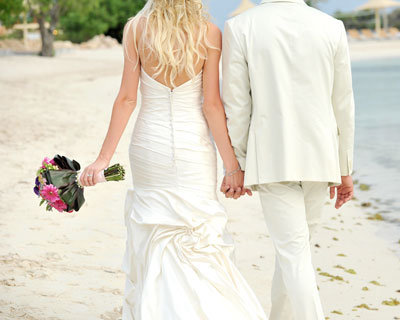 Considering a Destination Wedding: You CAN Make That Dream a Reality!
Considering a Destination Wedding: You CAN Make That Dream a Reality! This year alone, an expected 24 percent of all wedding ceremonies will be destination weddings, and most of these will take place in a warm or tropical climate near or on a beach. Reasons vary for choosing a destination wedding, but most couples say they want a celebration that won't put them into massive debt, yet allows them quality time with family and friends in an intimate setting. In addition, destination weddings give the couple more than just a few hours with the guests. A lazy day by the pool with grandma and grandpa is far more memorable than a quick dance and a bite of cake before rushing off to greet the next guest.
Aren't sure a destination wedding is for you? Before setting a date at your local venue, take a minute to check out the most frequently asked questions the Wedding Specialists at Travel Savvi receive. Most brides and grooms are surprised to find that their destination wedding dream is a definite reality!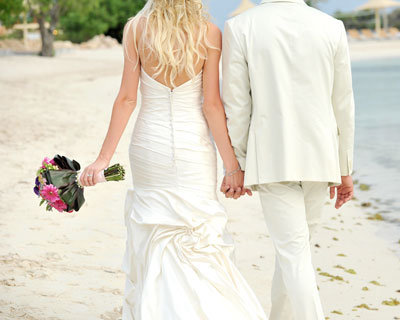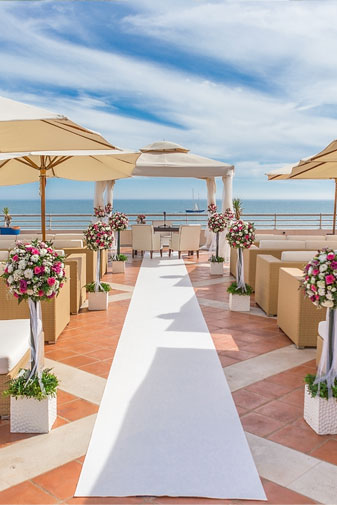 Will a destination wedding fit into my budget?
Most couples find that planning a destination wedding is less expensive than planning a local wedding. For example, the average cost of a destination wedding in Mexico is approximately $10,000 (including travel, resort stay and wedding package). That's well below the $26,000 price tag of an average wedding at home. There are several affordable destinations to consider, such as Mexico, Jamaica, Dominican Republic, and Costa Rica, so you'll have lots of choices and locations that fit your personalities.
In addition, many resorts offer a complimentary wedding package when staying at the resort. Plus, the wedding reception is much more affordable as many of the costs are rolled into the wedding package inclusions. These wedding packages allow you to spend more money on entertainment like a rockin' band or fantastic DJ. And since you're already in a gorgeous beach or ocean setting, you won't need to spend a ton of cash on decor! Savvi Wedding Specialist Kristi couldn't agree more. "Let the destination be your showcase! You can keep the cost down on decor and leave it very minimal because what is more beautiful than a stunning ocean view?"
There are basic costs involved: The wedding dress, suits, passports if you don't already have them, and flights and hotel. Many couples also choose to hire and bring their own photographer as well. What you decide to add in addition to of these costs is really up to the couple.
Who helps us plan the wedding and travel when I live in another area?
A Destination Wedding Planner like the specialists at Travel Savvi help you every step of the way, from arranging travel for your group to putting you in contact with the wedding coordinator at the resort. It's important to have an expert helping you with the arrangements, and Travel Savvi Specialists have years of working with wedding couples and wedding guests. Brittany, Kristi, and their Savvi Specialists understand that planning a destination wedding is very different from planning a vacation. Your Travel Savvi Specialist will walk you through the entire process and answer any questions you have about planning your perfect day. In addition, each resort has on-site wedding team ready to make your wedding event one to remember.
How do I choose a destination wedding location that's right for us?
Consider what you and your significant other like to do when on vacation. Are you more active or sedentary? Do you prefer nature walks to beach volleyball? Your Savvi Specialist will help you choose a resort that fits your style perfectly, and offers a number of group benefits for you to enjoy. However, you may want to keep destinations that are easy for your guests to get to in mind.  Most guests will only stay three or four nights, and while you may stay longer, it makes everyone's life less stressful if you choose a location that's an easy flight from home. The general rule of thumb is: No more than one connection or one entire day of traveling for your guest to arrive at the destination wedding resort or back home.
Savvi Wedding Specialist Brittany feels it's important to take your guests budget and time into consideration when deciding on a destination. "Choosing a destination that is both affordable and easily accessible will be much appreciated by your wedding guests and should be an important factor in your final decision. Your guest list will dwindle if they are required to pay a fortune for airfare and spend two full days traveling to and from the destination. I always recommend having an open mind when looking through the options presented to you. Bora Bora is amazing, but will your guests be willing to travel for two days to get there?"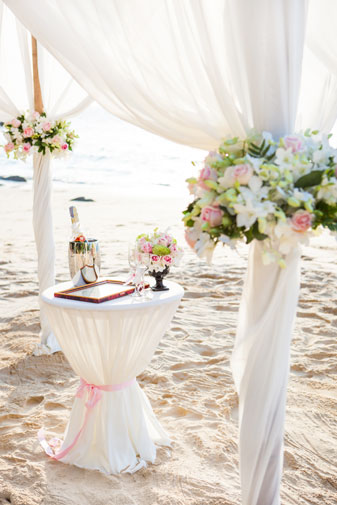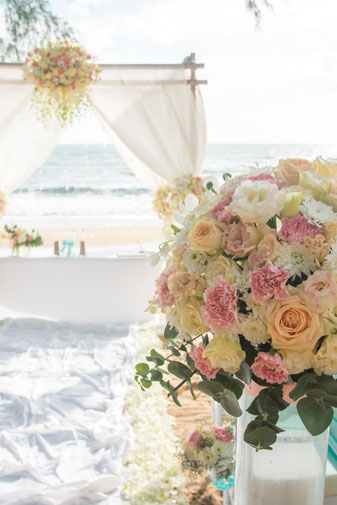 How many people can I invite?
That's entirely up to you. Couples love Destination Weddings because they are more intimate than a traditional wedding and reception. We plan destination weddings of all sizes; the average destination wedding is around 45 guests. Often times, the larger the group size, the greater the group benefits, so it doesn't hurt to extend the invite to your entire circle of family and friends. If you want to keep the event more intimate, couples find destination weddings to be an easy way to filter out colleagues and acquaintances without hurting people's feelings. In the end, it's all about the quality time in paradise with your favorite people!
What will my family and friends think?
Weddings bring out strong emotions in everyone, but do your best to stay true to your wedding day vision. Don't allow family or friends to make you feel guilty for planning a destination wedding. The best advice our Savvi Specialists can give a bride and groom is to follow their hearts and create the wedding of their dreams. There's always time to toast with those who couldn't make your beach wedding when you return home. Besides, their wishes for your happiness remain the same whether your best-friend's-cousin's sister is at the reception or not.
Are there any tips you can give for planning a successful Destination Wedding?
Consider a weekday wedding. Fridays and Saturdays are typically the busiest days for a ceremony, and many times there will be multiple ceremonies on the same day. Since you have people staying with you at the resort, consider a Thursday or a Monday. These days are often overlooked but work nicely into the weekend event.
Make sure you discuss the marriage laws of the country in which your ceremony will be held so there's no surprises when the big day arrives.
Most importantly, this is your one time to call the shots and be unique; relax and enjoy the process! We have yet to meet a destination wedding bride who regretted their decision to have a destination wedding!